DC Youth Tour 2023!
Win a Trip of a Lifetime!
The Washington, D.C., Youth Tour is a program offered by Coos-Curry Electric Cooperative (CCEC) and other cooperatives throughout the nation to high school juniors. Participants receive an all-expense paid trip to the nation's capital from June 17-June 23, 2023, where they are immersed in the nation's history visiting sites like Arlington National Cemetery, the Vietnam Veteran's Wall, the Washington Monument, Mount Vernon, and the Smithsonian. In addition, students not only meet with other participants from across the nation, but they also get the opportunity to discuss current issues with representatives and senators.
Entry Guidelines & Applications
The tour is open to qualified high school juniors attending school in Coos and Curry counties, whose parent or guardian is a current member of CCEC. CCEC will pay all of the expenses involved with the trip except for spending money that the finalist may want to take.
Applications will be reviewed by a selection team of CCEC staffers. Those students selected to continue on in the process may be expected to take part in a short interview with the selection team.
Ready to Apply?
Applications are due March 16, 2023. The selected student must be a high-school junior and agree that if selected, he/she will participate in activities that help promote the youth tour. You may also be asked to report on the overall experience of the trip.
Complete your application below. CCEC will be selecting one finalist. All applicants will be notified of the selection status.
Note: Online Application will NOT save unfinished progress. CCEC recommends saving responses in a separate document to ensure applicants do not lose information. Also, any photographs submitted can be used for marketing purposes. 
**CCEC employees and their dependents are not eligible to apply. **
Why take a chance and apply? It's a trip of a lifetime and a life-changing experience for any student. But don't take our word for it. Here is a profile of Lily Strahm, CCEC's 2022 delegate!
After a two-year hiatus due to the COVID-19 pandemic, Coos-Curry Electric Cooperative again sponsored a local youth attending the National Rural Electric Cooperative Association Youth Tour in Washington, D.C.
Lily Strahm of Brookings joined 1,300 delegates from cooperatives across the United States for a two-week tour in June Since 1964, NRECA has offered a once-in-a-lifetime experience for high school students to learn about American history, the electric cooperative business model and meet with government representatives.
Lily was chosen by the Coos-Curry Electric Cooperative panel as the finalist after her essay response to: "If you were asked to help promote CCEC's community programs and services among young member-owners, what would you do?"
"Youth Tour was an amazing experience," Lily says.
"I met many youths from across the United States who are also served by rural electric cooperatives. Thank you, Coos-Curry Electric, for this great opportunity to learn about our rich history."
Congratulations, Lily, for earning this prestigious experience. CCEC thanks Lily for being an excellent ambassador.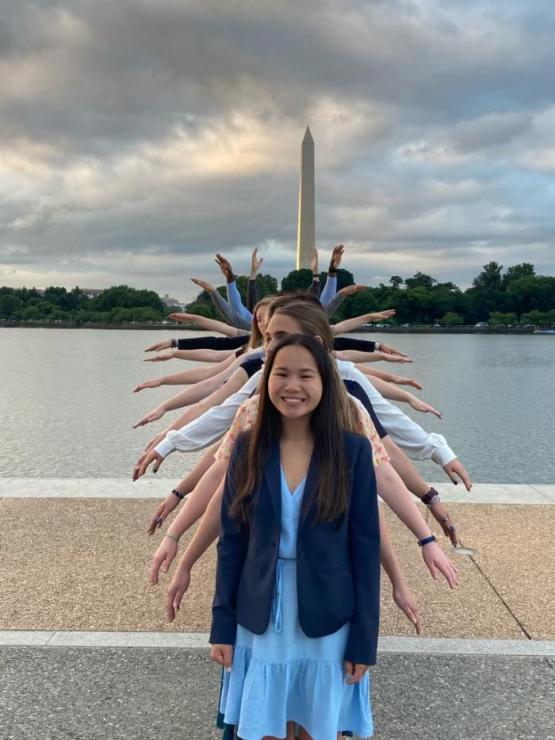 2023 Youth Tour Application