Who is Coos-Curry Electric?
Coos-Curry Electric Cooperative is a member-owned, not-for-profit electric cooperative serving over 13,000 members and businesses along the southern Oregon Coast and inland. 
Our Mission, Vision, & Values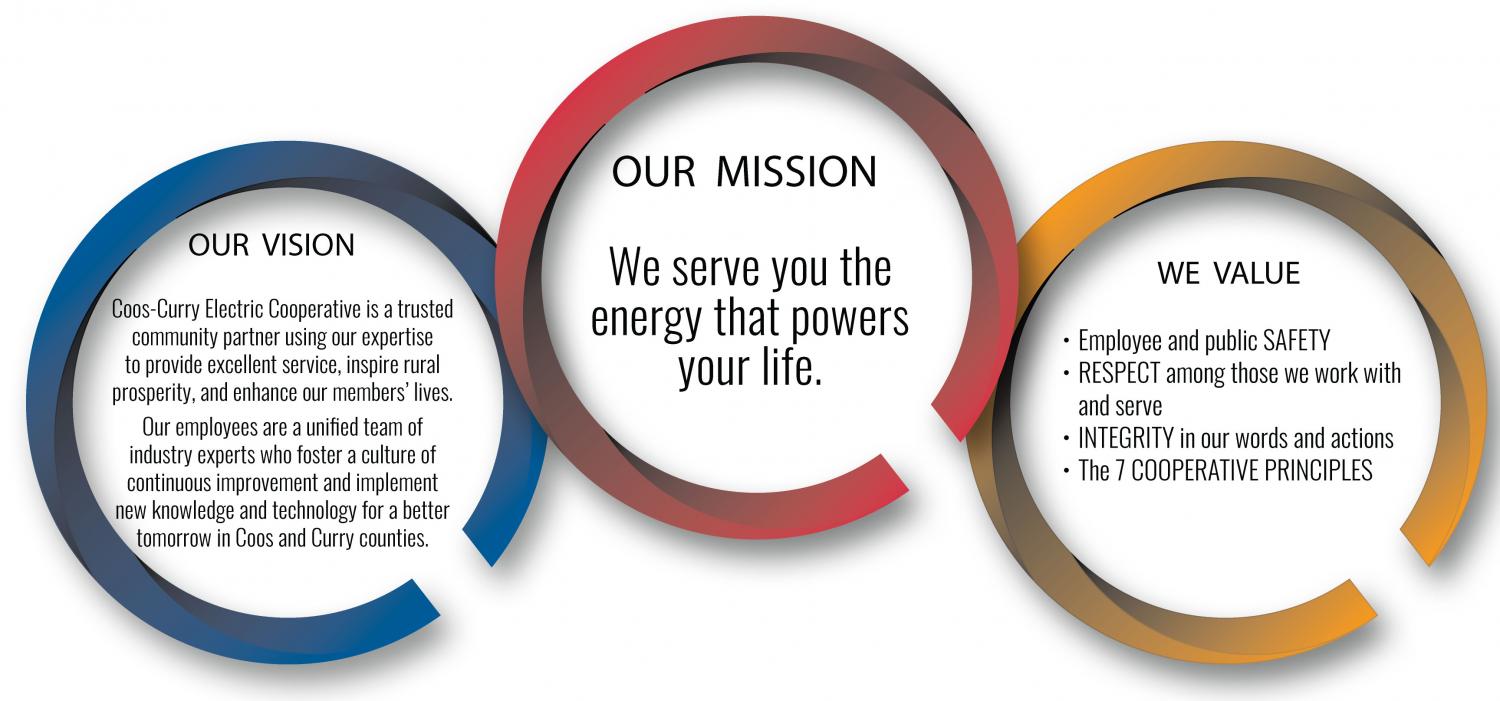 Over 80 Years of Coos-Curry Electric History
Coos Electric Cooperative was incorporated under Oregon Law.
1940: Coos Electric Cooperative's first lines were energized spanning 84 miles.
1942: Coos Electric Company brings electricity to the Cape Blanco Lighthouse.
1942: Coos Electric Company acquired the Port Orford Electric Light and Power Company.
1945: Coos Electric Company acquired the Brookings Light and Power Company.
Coos Electric Cooperative officially changed it's name to Coos-Curry Electric Cooperative.
1947: Rogue River Power Company merged with Coos-Curry Electric.
1962: Power is brought to Agness.
1964: A severe storm brought heavy rain and flooding to the region damaging Coos-Curry Electric Cooperative's system topping $2.7 million in damage.
1969: Wholesale power was secured through Bonneville Power Association (BPA).
1975: Coos-Curry Electric partnered with 16 other cooperatives to form the Pacific Northwest Generating Cooperative (PNGC), an organization that would address long-term energy supply to meet member's needs.
1981: Coos-Curry Electric moved its headquarters office to Highway 101, just north of Port Orford.
1987: Coos-Curry Electric formed South Coast Satellite Cooperative, Inc. in response to the membership's desire to have access to satellite TV.
2005: CCEC began utilizing automated meter reading to improve cost-effectiveness and service throughout the region.
2008: CCEC joined the ranks of cooperative electric utilities across the country as a Touchstone Energy cooperative.
2010: The transmission line from Gold Beach to Brookings was completed.