Capital Credits
Electric cooperatives aren't like other utilities—you, as a consumer and a member own a portion of the business. And one benefit of that membership involves the allocation of excess revenue, called margins, in the form of capital credits. 
Electric co-ops operate at cost— collecting enough revenue to run and expand the business but with no need to raise rates to generate profits for distant shareholders. When Coos-Curry Electric Cooperative, Inc. (CCEC) has money left over, it's allocated back to you and other members as capital credits. When the co-op's financial position permits, the co-op retires or pays, the capital credits to members. Since 2007, CCEC has retired nearly $7.5 million in capital credits to members.
Nationally, in 2010, electric cooperatives retired $626 million in capital credits to current and former members. Since 1988, co-ops have retired $9.5 billion, based on data from the federal Rural Utilities Service and the National Rural Utilities Cooperative Finance Corporation (CFC), the premier private market lender to electric cooperatives.
The retirement of capital credits—so-called because members provide capital to the cooperative for it to operate and expand—depends on the co-op's financial status. CCEC holds onto allocated capital credits to cover emergencies, such as a natural disaster, and other unexpected events, and to expand its electric system, all of which may require large-scale construction of poles and wires. This action decreases the need to raise rates or borrow money to pay for the infrastructure. After a number of years, if financial conditions permit, CCEC may decide to retire a set amount of capital credits.
Members are annually allocated capital credits based on the amount of electricity they consumed during a year. Because of our business model and capital credits, in particular, it is important that accounts are in the name of the person paying for and using the electricity because capital credits will be allocated and retired accordingly. In addition, if a member leaves the area, they should be sure the cooperative has a valid address so when capital credits are retired, the check is mailed to the proper address.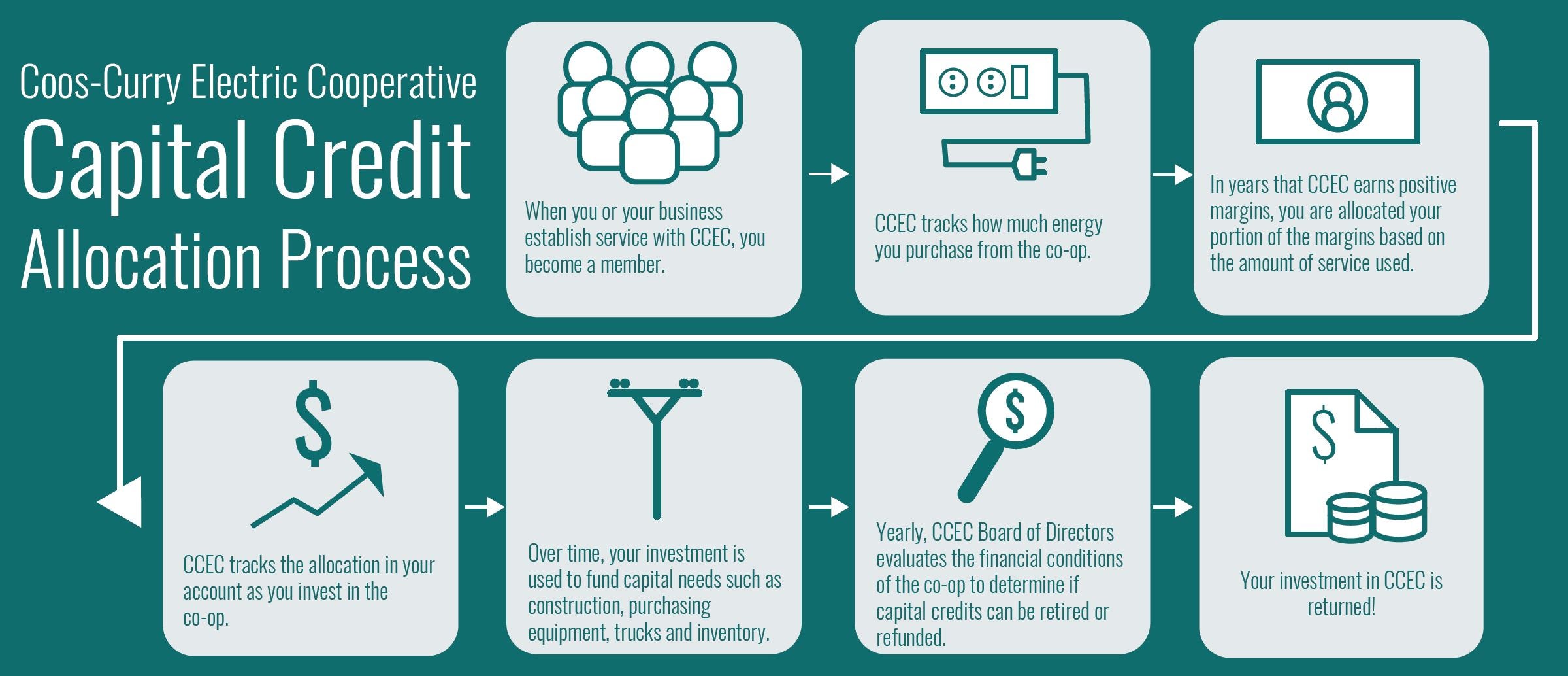 Unclaimed Capital Credits
Coos-Curry Electric Cooperative wants to return unclaimed money
Who are we looking for?
Coos-Curry Electric Cooperative Inc. is looking for members who have unclaimed capital credit checks issued in 2016 and 2017. The CCEC Board of Directors approved the retirement and issuance of those capital credit checks to members who had electric service with CCEC in 1987, 1988, and 1989. Please visit the list of unclaimed capital credits by clicking the button below or search for a name. If your name appears on the list please fill out the form provided below and a representative from CCEC will contact you.
Search for Unclaimed Capital Credits
Update Contact Information

It is critical that all members, including former CCEC members, update their mailing addresses on file with CCEC. This ensures current and former members receive their capital credit retirement checks when those checks are issued.